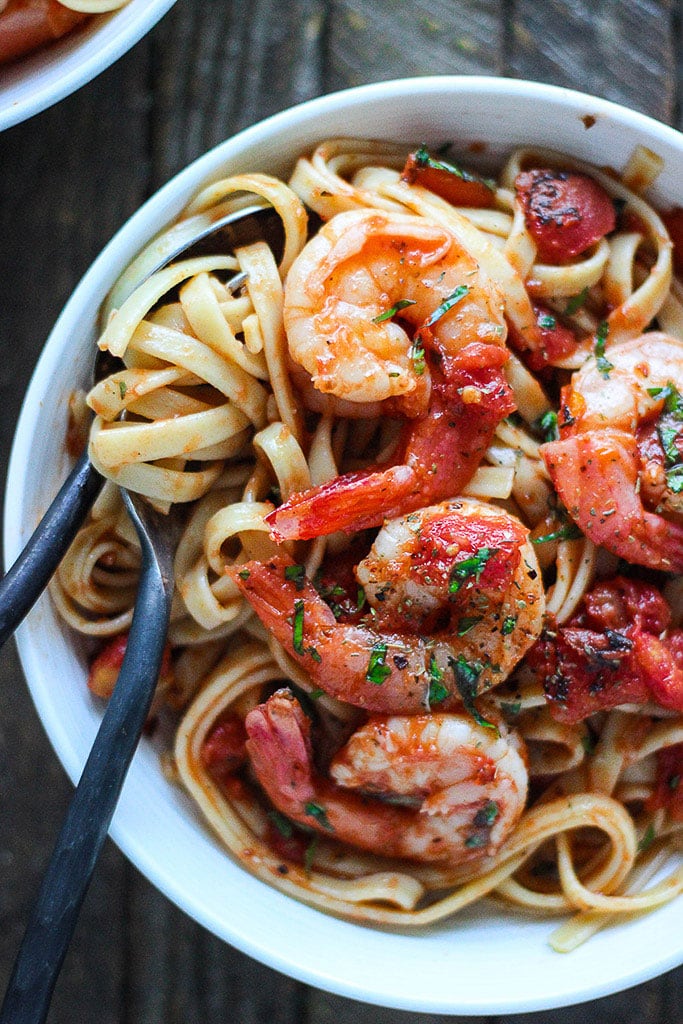 What better way to start a new year than with some protein-packed pasta.  Juicy jumbo shrimp sitting on a bed of your favorite pasta, simmering in a slightly spicy, slight sweetened marinara sauce dotted with chunks of fire-roasted diced tomatoes. Top this 30-minute meal with some fresh basil and a hearty serving of Parmesan cheese and you're all set.
Better Homes & Gardens recently invited me to guest post on their Delish Dish. What this typically means is I pick a recipe of theirs and adapt it to how I would cook it. So I went ahead and chose shrimp pasta diavolo, which is basically shrimp pasta in a spicy marinara sauce. It's pretty wonderful if you like your pasta spicy and happen to be a fan of shrimp.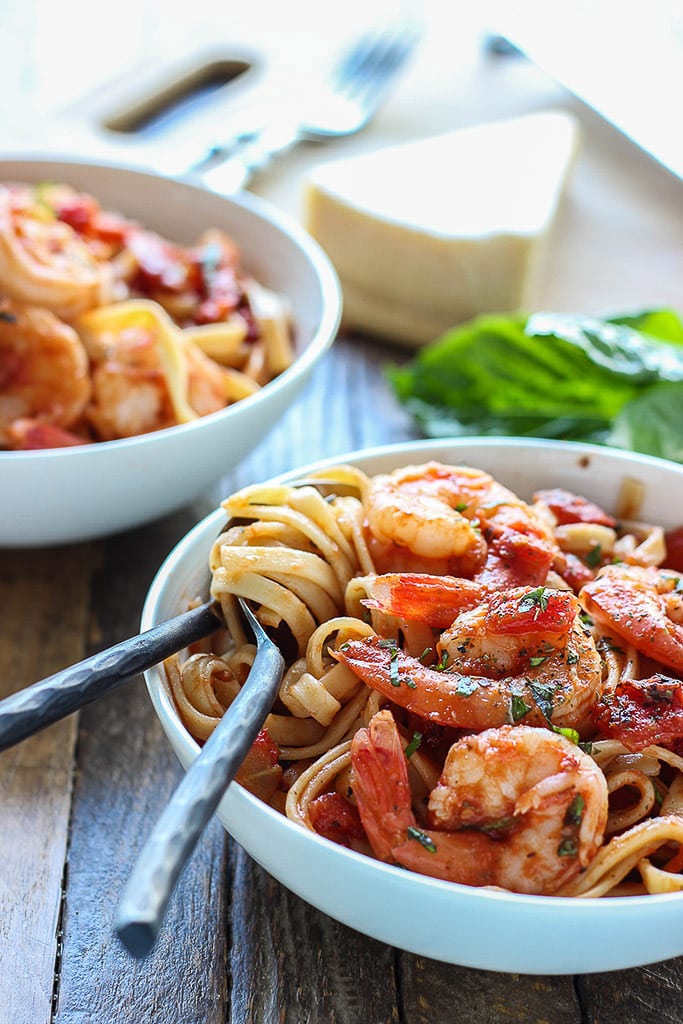 Some of the changes I made were to up the amount of pasta and shrimp used for a more hearty meal for 4 people. The biggest changes I made were to the sauce itself. I wanted the acidity of the pasta sauce to be balanced out with some sweetness to add another layer of flavor there. And I tossed in some Italian seasoning as well.
Head on over to read a more detailed account on the changes I made. It's not much since I tried to keep it super simple, but it's enough to make the pasta my own! You'll find the original recipe I adapted from there as well.
PS: Sorry for the confusion guys! It's not a traditional post with a recipe section. Part of Delish Dish's shtick is to have a food blogger adapt a recipe, reference the original BH&G recipe they adapted from and mention the changes they made in prose. I didn't make that many but the changes I did make are pretty clear, so read on 🙂
For the original recipe I adapted from: http://www.bhg.com/recipe/shrimp-pasta-diavolo-1
For a list of the changes I made: http://www.bhg.com/blogs/delish-dish/2016/12/19/shrimp-pasta-diavolo
Enjoy.