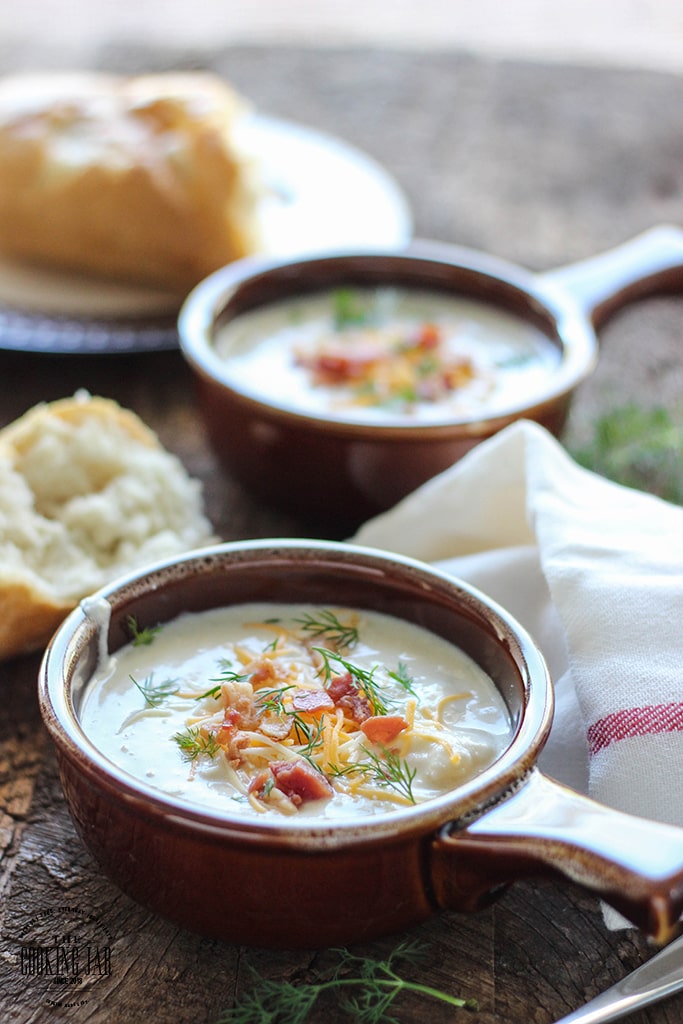 Today we'll be slow cooking our way into a comforting, creamy soup. Specifically, slow cooker cream cheese and potato soup. It's a super easy, very basic soup with very little ingredients that you can build on, or enjoy it in all its simplicity with a hunky loaf of bread. Potatoes take forever to cook so I feel the slow cooker is perfect for it. And as a natural thickener with it's inbuilt starch, you can thicken it to your liking.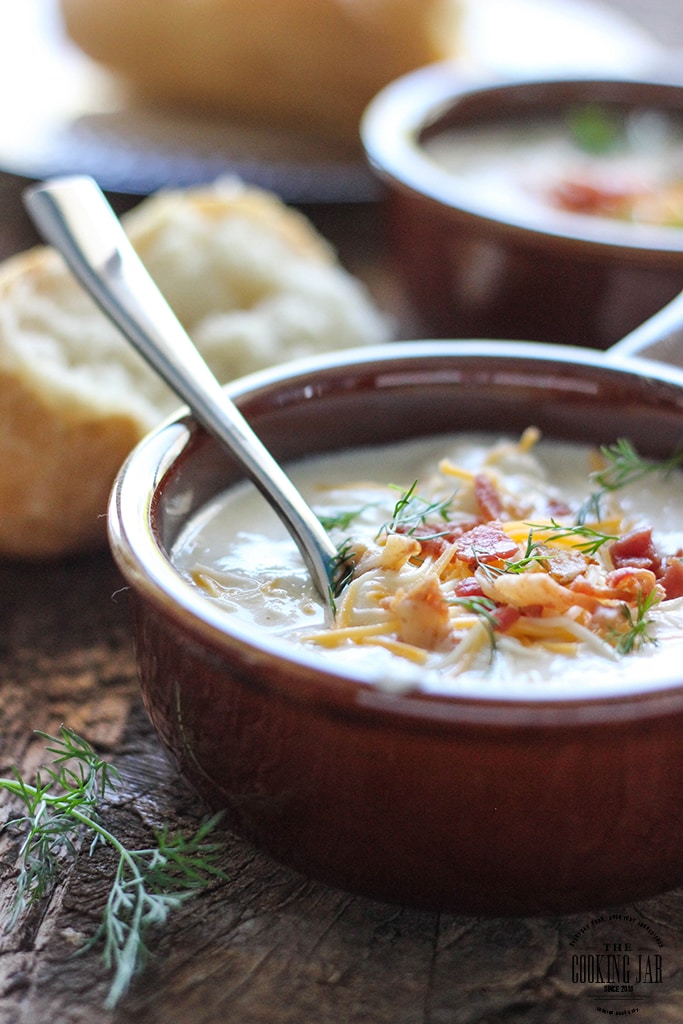 This should be just enough for four to six hearty servings, so you can do it in a small slow cooker. I chose to keep it simple and just do a topping of cheddar cheese, bacon bits and dill. I find dill really pairs well with the fresh crunch it gives. And as I said earlier, you can beef up the soup itself with any kind of proteins you like. This is one soup you don't want to miss. So let's begin!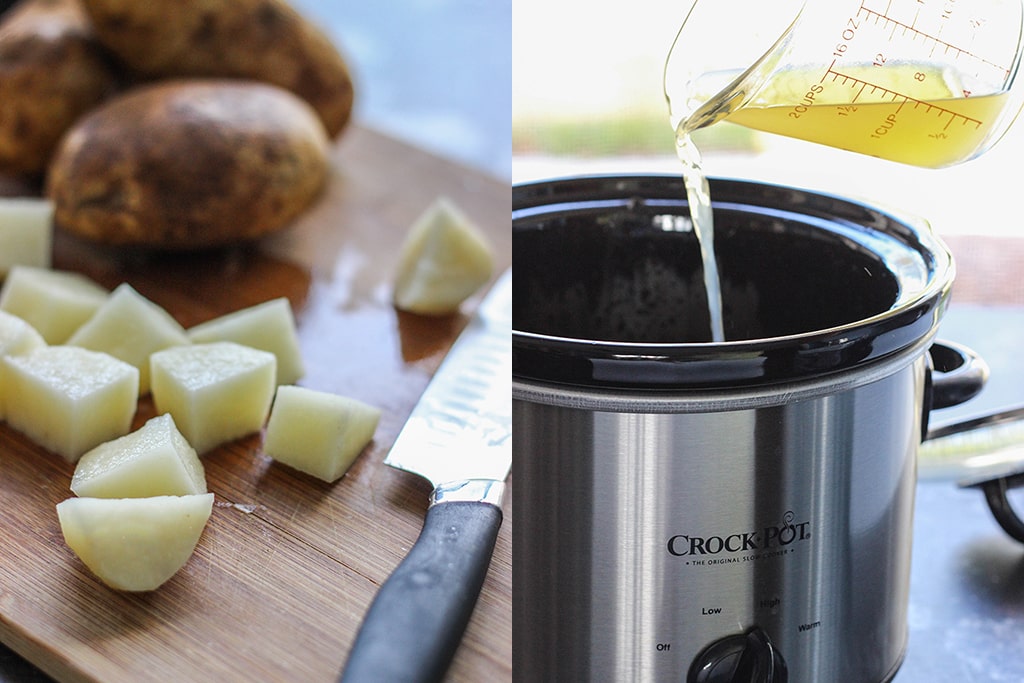 I started by sauteeing the onions and garlic in some butter. You can skip this step and just add them to the slow cooker if you prefer, but I feel sauteeing them beforehand adds more flavor. There's also the choice of using regular russet potatoes or red skinned potatoes. And you can choose to peel them or leave them with skin on. Whatever your preference, cut them into 1″ cubes. The smaller they are, the faster or easier they will cook and break down.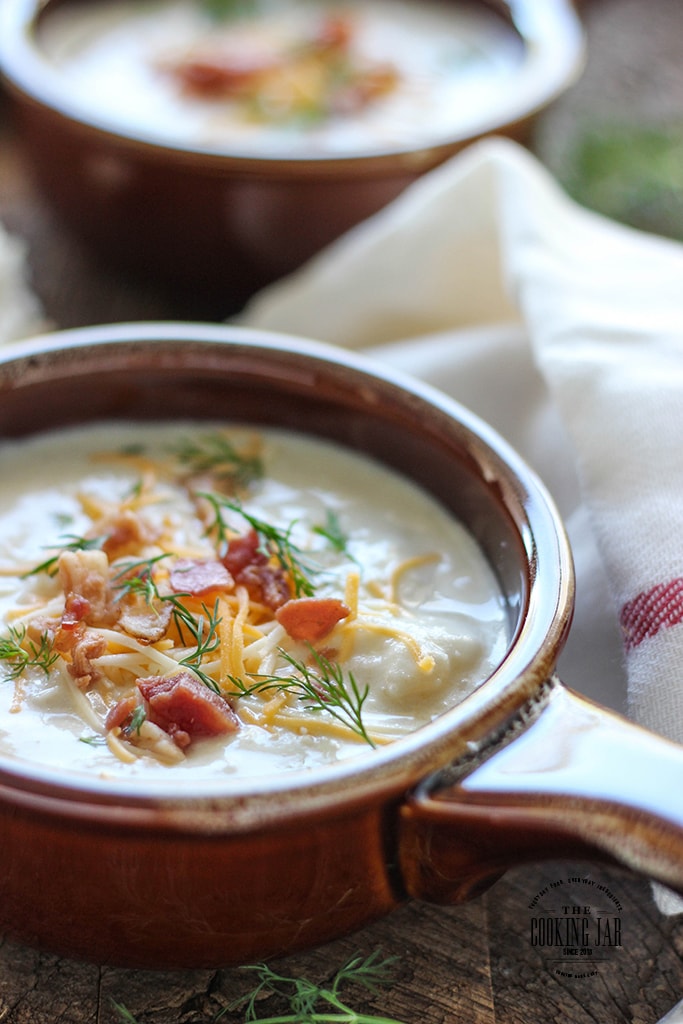 Then we add the potatoes, onions and garlic, seasonings and pour in the chicken broth. Time to cook! Six hours on low is enough time to get the potatoes tender but if you're at work and leaving it to cook at home, you can do it on eight hours as well. The potatoes can't overcook and since you're mashing them up anyway, you don't have to worry about them being too tender. Once it's cooked, don't worry about how thin the soup looks when you unveil it. We'll be mashing up the potatoes thicken up the soup some and it'll be creamier once the cream cheese is added. You can mash it up with the back of spoon, blitz it in the blender or use a stick blender if you have one. Break down the potatoes till it's as thick as you want it. You can leave some chunks of potatoes alone to add some texture to the soup, or blend it into oblivion. The choice is yours.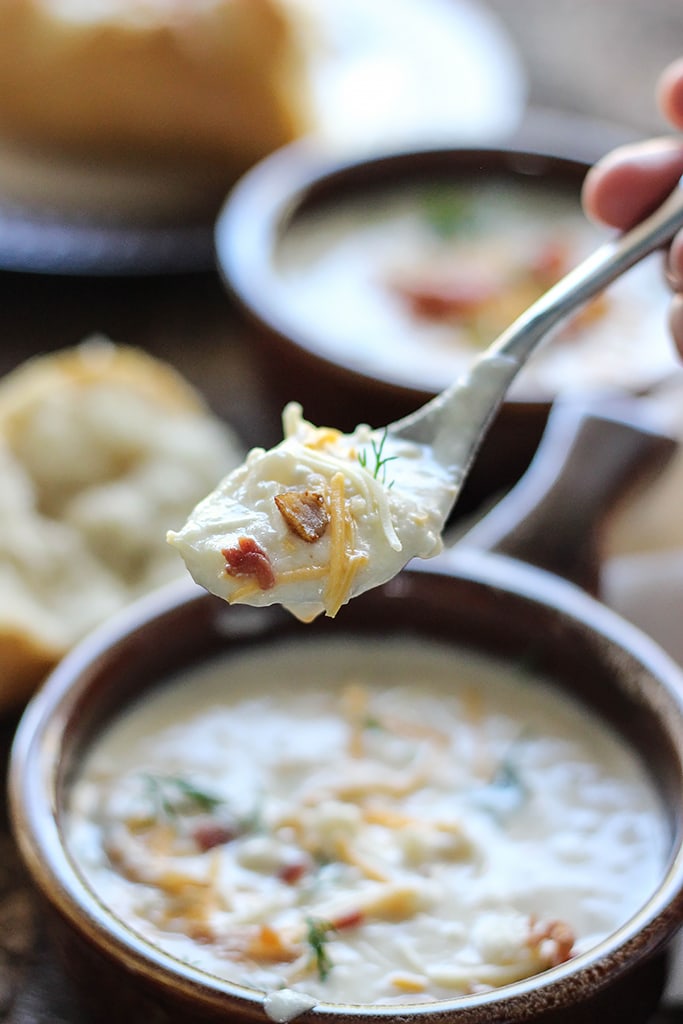 I mentioned earlier on beefing it up. If you want some proteins, you can also add chicken breasts, turkey, bacon or ham to the slow cooker before or after cooking. Shred the chicken/turkey or cut them into chunks. It's up to you! This soup is super versatile like that. Honestly though, I loved it as is with just the toppings.
One final step! Add the cubed cream cheese and cook on high for 30 minutes or until the cheese has melted. I usually add dairy in the last half hour of slow cooking because they tend to curdle if left in there too long. Back to the recipe, If there's a little cream cheese left after your 30 minutes is up, use a whisk to blend it up nicely. Stir to incorporate all that cheesy goodness into the soup and you are done! Top with some cheddar cheese, bacon bits and your choice of dill, green onions or chives.
Enjoy!

Nutrition for 6 servings without toppings: